Books by Mark Kozub
Spirit of the North: 100 Years of Community Building in Grande Prairie
It began 100 years ago. In 1914, Grande Prairie was incorporated as a village. That village grew into a town that grew into a city. What made it happen? The answer is simple: people. People who believed. In community.
Sprit of the North: 100 Years of Community Building in Grande Prairie features hundreds of fascinating stories taken from research that included many face-to-face interviews with pioneers and community leaders. Kozub calls it "a labour of love" and "one of the most important books I have ever worked on."
---
Weird Edmonton
You may already know Edmonton as the Festival City (with close to 40 festivals held year round, including the largest Fringe Festival in North America) and the city with the largest mall in North America (West Edmonton Mall), but did you know Alberta's capital city is also downright weird? Edmonton is home to:
The bush pilot who valiantly fought the Red Baron in his last dogfight of World War I
A miracle baby who came back to life after spending an hour outside in frigid weather
Ghosts that throw beach balls around a city swimming pool
A psychic who lived in a cave in the river valley
Steampunk groups who dedicate themselves to the fashions, ideas and innovations from science fiction in the Victorian era
Prehistoric fish in the North Saskatchewan River
Read about these weird events, people, places and more in Mark Kozub's loving tribute to his home city, Weird Edmonton.
Published by Blue Bike Books
Distributed by Lone Pine Publishing
Purchase it now on Amazon.ca
---
Celebrating Success in Edmonton

What does success mean to you? Is it building a successful company? Waking up every morning and looking forward to your workday? Owning a Rolls Royce? Or is it having a community where children never go hungry? Celebrating Success in Edmonton is a rich and inspiring reflection on the attainment of success. Mark Kozub's book is filled with enlightening Q & A-style interviews with some of the key businesspeople, philanthropists and artists who make Edmonton a great city: Kevin Lowe (Edmonton Oilers), Jean Paré (Company's Coming), Jim Hole (Hole's Greenhouses and Gardens), Brent Hesje (Fountain Tire), Bob Baker (Citadel Theatre), Barbara Poole and many more.
Celebrating Success in Edmonton also features many fine photographs by Randall Edwards.
---
The Uptown Browns
The good old days are just beginning… Sometimes your life changes in the blink of an eye. Take Chip Brown. Once, he was a wide-eyed kid who thought he might get famous playing bass in the family band. Then he became a bald middle-aged man. Up until not so long ago, he had a wife who loved him and a dog named Grrr and a cat named Prrr. And a house. And a mother too. So why is he smiling? You'll see.
---
The Brown Family
This is the beginning of the Brown saga… The Brown Family is a bittersweet comedy about how the comfortable life of a pleasantly square family is altered when "Mom" (Mrs. Brown) undergoes surgery and comes through it with the belief that: a) she may only have months to live and b) she was recently visited by God. The Brown Family was published by Dramatic Situations and sold out its first printing.
---
A Calgary Album: Glimpses of the Way We Were

By Mark & Janice Kozub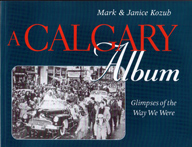 A Calgary Album is a sentimental journey into a cattle town that grew to be a world-class cosmopolitan city. Through eighty-five glorious black and white photos and engaging storytelling, the authors take the reader back to the time of the "real" cowboys, to the days when the streetcar seemed like science fiction.
---
Big Enough Dreams

Edited by Debbie Marshall
Mark Kozub, contributing author

Big Enough Dreams is a collection of non-fiction stories describing the lives of thirty-one adults with developmental disabilities. These are compelling tales of individuals who are passionate, competitive, uptight, talkative, petty, beautiful, ambitious, troubled, open-minded, caring and funny. Other contributing authors include great Alberta writers Todd Babiak, Myrna Kostash, Shirley Serviss, Linda Goyette and more.