About Mark Kozub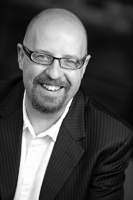 Mark Kozub is an Edmonton-based communications writer, workshop facilitator, author and musician who believes in creativity, inspiration, good clear communication, and the power of the people working together to bring exciting things to the world. He also believes in being easy to work with.
Clear Messaging for Communications
Mark Kozub has been providing communications for the public and private sector for over two decades. His key focus is on human services and health, but his clients have ranged from University of Alberta to Edmonton Tourism. Through his network of talented people, he creates effective and integrated communications strategies and campaigns for all media: web, social media, print, radio, TV, video and more.
A Stellar Network of Talented People
You're only as good as your network. And Mark is particularly proud of his. Through his alliances with communications firms (Bird Communications), web designers (MG Creative, Monolith Digital), graphic artists (Aaron Mumby Design), interactive media (Critical Fusion) and photographers (Owen Murray, Redwards Photography), virtually anything is possible!
Inspiring Workshops
Drawing upon his considerable experience in writing for radio, magazines, advertising agencies, government and more, Mark Kozub teaches workshops in: communications writing, media training, creativity building, branding, leadership, performance poetry and more.
A Beatnik at Heart
Mark Kozub is a founding father of Edmonton's acclaimed Raving Poets movement. (The closest thing to it is Mike Myers' So I Married an Axe Murderer, poetry perfectly wedded to the live music of The Raving Poets Band, for which Mark lays down the bass.) Mark's beatnik-style spoken word has been featured on CBC TV, Book Television and at various poetry and comedy festivals.
He is also author of two novels, two non-fiction books, and contributing author of Big Enough Dreams, an Edmonton bestseller about adults with developmental disabilities.
On a purely personal note, Mark is a steadfast believer in creativity, kindness, meditation, Sufism, and fun.